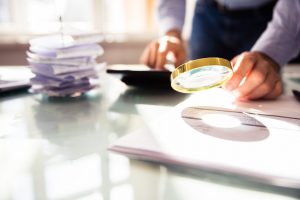 From time to time, I get a call from the family or friends of a deceased loved one who has found a will stashed away that appears to have been handwritten and signed by the decedent. They checked with their attorney first, who recommended that they give me a call. If there is any question about its validity, they may need the verification of an expert in court that it is either real or fake. As a handwriting expert (AKA Forensic Document Examiner), that is what I do.
If this is you, here are five steps to make this happen:
Retain your expert
Gather a quantity of your loved one's handwriting and (The more, the better.) Submit the best quality copies, but better yet, send originals if you have them.
Submit the best copy of the Will that you have. If the original in at the courthouse, I need to see it. Your attorney can make arrangements for an onsite examination with the court.
The results can be verbal or in a written report, depending on what your attorney requests. I highly recommend that you get a written report.
If necessary, I testify in your court proceedings or deposition.
Examining a Handwritten Will
The examination of the Will has many facets, especially if the original is available for analysis. Frankly, the exam involves two handwriting exams; one for the signature and one for the body of the text. You see, the production of a signature is far more ingrained in our neuro-muscular patterns and often takes on individuality apart from cursive or hand printing. In essence, it is the identifying mark chosen by the writer to represent who he is. This mark is subject to personal taste and evolution as the writer develops his signature style.
The body of the text may be hand-printed, cursive, block letters, or a combination. To compare the genuine writing to the Will contents, I must use a similar type of writing. Finding like styles may pose a challenge for some who have little to no access to the decedent's documents. Here again, the more comparable samples you provide, the better chance you have of a productive examination.
Always Obtain an Expert Report
Now we come to the written report. I prepare my reports to assist you and your attorney to plan your case efficiently. My report is a stand-alone record; It accurately describes my work and my opinions and can clarify misunderstandings and personal misperceptions that occur in conversation. (See my blog, "Always Get a Report")
 Included are:
My opinions and the rationale that supports them
As many illustrations that I think necessary to explain my findings further
Charts, reference documents, or additional items that could be helpful
A full accounting of the documents used to arrive at my opinion
My credentials
Finding an Expert to Verify Your Handwritten Will
For now, you have enough information to process to help you get started. If you have any further questions, please give me a call at 888-760-0339. I am always happy to help you get started in a productive direction, whatever that may entail.